LED Display Controllers
ERMAC Family
ERMAC Ultra
A new generation of video processors
ERMAC
The optimal choice for simple tasks
ceLSC
The best solution for permanent installations
ERMAC Ultra
ERMAC Plus
ERMAC
CeLSC
Screen devices in the chain
up to 32
16
16
1
Built-in computer
/
Maximum resolution
up to 4096 х 2970
up to 12.1 Mpx
3840 х 1580
6.1 Mpx
1920 х 1274
2.3 Mpx
1024 х 768
Maximum number of output
up to 4
2
2
1
With any of our Multilayer LED Video Processors ERMAC, the client receives full control over the image parameters in real-time. The universal architecture of the product allows displaying on the video surface colorful content irrespective of the model and configuration of displays you use.
Applications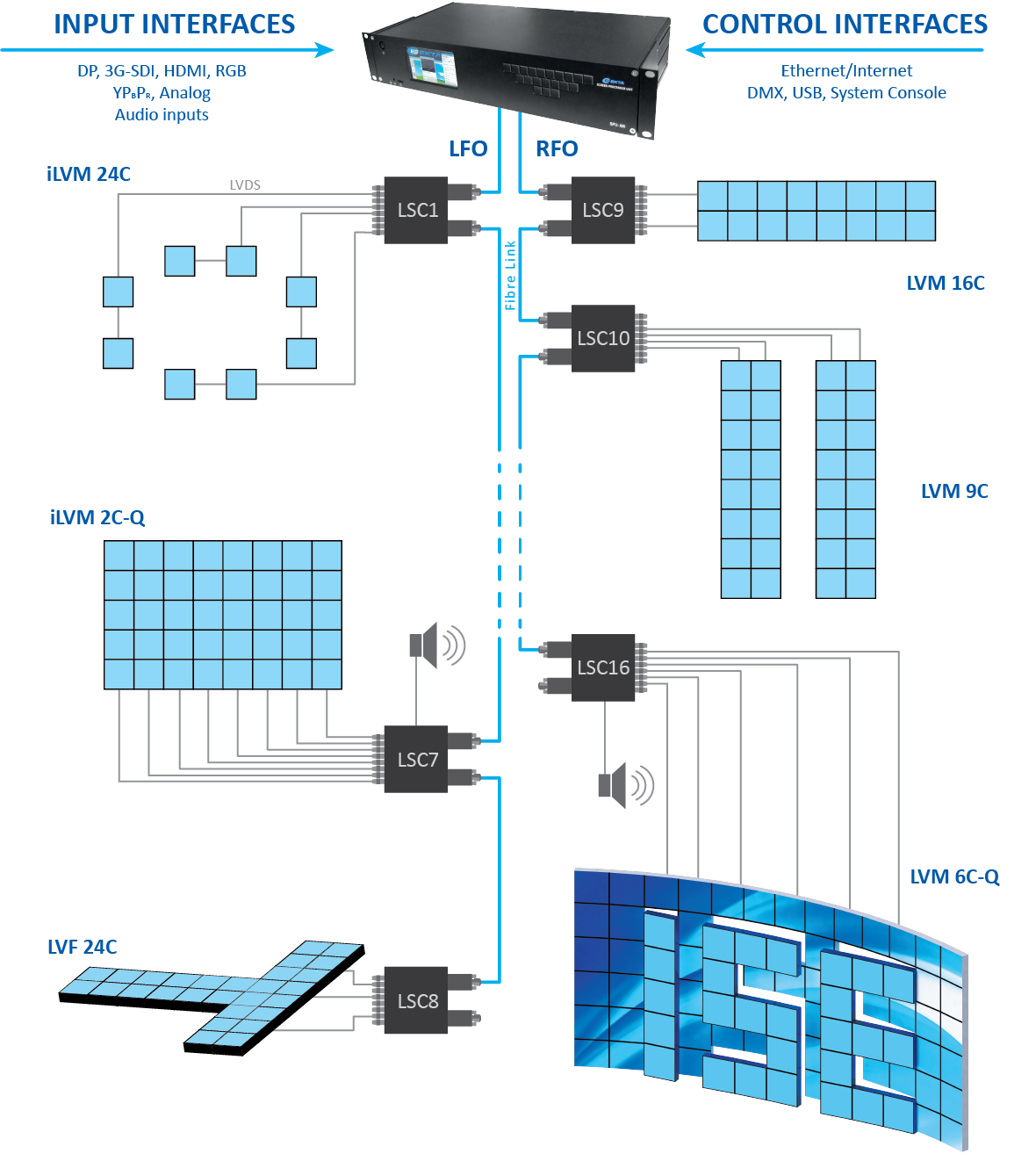 Read more...
EKTA is dedicated to designing, and manufacturing of the class-leading LED display controllers, that fit multiple AV and integration applications.
As the company devotes particular attention to excellent image quality assurance, the unique series of controller LED – ERMAC were designed. The versatile solution fulfills a number of functions: LED display control, high-end video processing, cropping, scaling and mixing. The multi-purpose device, having built-in output mixer, picture in picture function, advanced screen, and stage designer, was developed specifically to minimize the equipment needed for outstanding performance and to ensure total ease-of-use.
The high power devices ensure full control over the image on the screen and allow fast and easy performing of a number of settings – color temperature control, brightness adjustment, gamma correction, cropping, scaling and mixing on a real-time basis.
SPU supports a variety of inputs and outputs. Signals supported include Display Port (DP), HDMI (DVI), 3G-SDI, CVBS, as well as Internet / Ethernet, DMX, and USB direct input, Wi-Fi. 3D available on board along with 4K resolution expands the range of its applications in the сreative high-demand fixed installations and rental projects.
Considering the SPU's output capacity, LED controller allows simultaneous coordination of up to 32 displays of any size and shape. Owing to EKTA's pioneering calibration system, it is possible to achieve up 99% color uniformity and complete screen alignment for all the displays at a site, even composed of different kinds of LEDs and diverse ranges of pixel pitches.
For superior visual performance, onboard 18-bit processing allows total control of screen brightness and contrast and ensures the depth and the extra-wide spectrum of colors, showed by LED display.
The wide range of frame rates up to 120 Hz, providing the smooth visual perception of a picture, and extra-low latency time is an essential advantage for TV and broadcasting studios.
Owing to the advanced easy-to-use WEB-interface, LED screen parameters can be remotely controlled from any computer, tablet PC, iPhone, iPad, Android, Windows, Mac at any time and place.
Due to ERMAC's unbeatable specifications, the programmable LED controller can be the best choice for any application – advertising, television, digital signage, stage background, industrial TV and so on.
To get any additional information contact our specialists.
The company was founded in 1992 and is headquartered in Ukraine, Kyiv. As a global leader in state-of-the-art LED display and lighting solutions – EKTA Co., Ltd develops, manufactures and provides equipment for a variety of markets including DOOH media, TV and broadcasting studios, shopping and entertainment, corporate and finance sectors, sports, and transportation.
EKTA's R&D and manufacturing facilities are located in Europe. The company has excellent execution capabilities and peak customization capacities to perform LED solutions in the best way possible, ensuring steadfast service and support. EKTA has accumulated tremendous experience in the implementation of fixed LED installations and application of EKTA hi-end equipment in multiple rental projects allowing EKTA to suit any customer preferences.
The main advantage of EKTA products is unrivaled reliability. The company's quality control system works under the principle of Total Quality Management, providing fault-free equipment operation throughout the entire lifetime due to the high IP protection level, robust, reliable module frame, and unique pre-sale testing system.
Another essential feature of EKTA product range is technological superiority. Due to the company's know-hows – Uniformity² calibration and screen alignment as well as to the intelligent cluster architecture, EKTA's LED displays ensure brilliant picture at any brightness level.
Being one of the best-known national ledsolution creators, EKTA has a far-reaching product range and specializes in premium-class LED displays, variable message signs and LED lighting production.
EKTA makes a video wall of any size and shape as a fixed installation or mobile, indoor or outdoor helping to make any creative ideas real. The professional team provides well suited LED solution, taking into account customers' current needs, overall requirements and performance priorities.
EKTA successfully creates LED lighting solutions, replacing out-of-date gas-discharge lamps with the energy-efficient LED analogs. Custom design approach and all-important project planning, deliver excellent quality of illumination, saving customers significant power consumption costs.
ЕКТА ultra-bright, high-contrast variable message signs can be used for multiple applications: lane closure, highways, roads, parking zones – to ensure the safety of drivers and passengers.
To get the detailed information about the full list of services, visit our website section products or call our experts to answer any questions you have.